While researching the history of some old buildings in Bolton I came across the following information on a now-defunct
website
which appears to throw a whole new light on the matter:
Visitors to Bolton are often struck by the number of elephants adorning buildings and street furniture in the town centre and beyond. The true origin of Bolton's curious association with elephants is not known. The Elephant crest appeared on Bolton's unofficial coat of arms from at least 1799.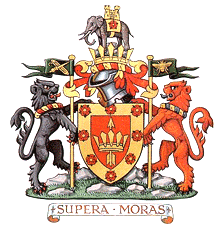 According to the official description of the Armorial Bearings for the County Borough of Bolton, designed by Major Ottley Perry and registered with the College of Arms in 1890, the Elephant and castle represent Bolton's connection with the old County of Coventry which was founded by the Lancastrian King Henry VI. An Elephant and castle appear on the arms of that City. Bolton's elephant device then also displayed a gold Bishop's Mitre which "was in memory of the long connection of Bolton-le-moors with the ancient Diocese of Mercia (which had its seat in Coventry) and is supposed to have included Bolton.
I suspect therefore that the Elephant & Castle motif has its origins in the ancient Diocese of Mercia rather than the City of Coventry as such?