Most of us are used to the following map of St Mary's Cathedral, St Michael's and Holy Trinity or something similar.
One annoying detail is that the north on the map does not line up with the north on Google Maps. Then you start to wonder why all three are at different angles. The individual parts of the buildings are also... wonky.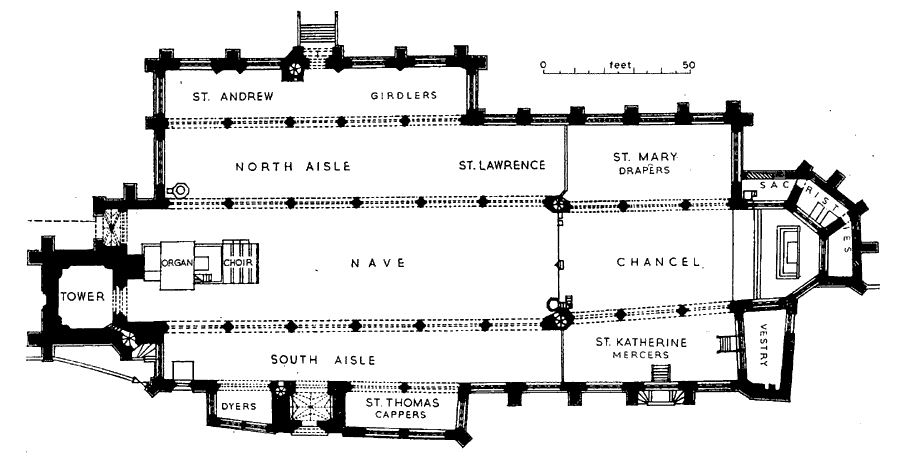 There are theories about the constraints of the landscape, existing buildings and land ownership. There are suggestions that the imperfections are deliberate and have symbolic meaning but I propose another possibility. North moved.
Evidence for the orientation of buildings by the means of a magnetic compass can be found in 12th-century Denmark: one fourth of its 570 Romanesque churches are rotated by 5–15 degrees clockwise from true east-west, thus corresponding to the predominant magnetic declination of the time of their construction. Most of these churches were built in the 12th century, indicating a fairly common usage of magnetic compasses in Europe by then. St Mary's was started about 1100, too early for the compass but it was built in stages ranging over several hundred years with the final apse design not finished until about 1540. St Michael's was started about the same time but was almost entirely rebuilt after the castle was demolished. It was at least 150 years younger than the priory cathedral in its main alignment. It might have been an endless frustration of each new master builder that the previous one couldn't use a compass properly.
Edited by member, 11th Jan 2019 12:03 am